Transcend … and spontaneously drink less
Conclusion of 12 studies with 4000 subjects: TM works, even if nothing else works.
Alcohol addicts are mostly ordinary people who have become dependent on alcohol to create a good feeling. This dependency is usually very deeply rooted in the psyche and experience has shown that superficial treatment methods are largely ineffective.
Transcending is a state where the mind comes back home, to a state of spontaneous inner happiness that it is always searching for. At the same time transcending will activate the body's own healing power so that the basis of the addiction can start to be removed on the physical level and as a result, the urge to drink becomes less and less spontaneously.
Scientific research on 4000 subjects confirms: TM works!
During the last 40 years 14 different scientific studies, involving a total of 4000 subjects, have confirmed the effect of Transcendental Meditation on alcohol addiction,.
With this many studies, a far more reliable conclusion of the effectiveness of TM can be made by calculating the average effect of all 14 studies and comparing this result with all other methods to fight alcoholism that were ever studied (83 scientific studies into other methods).
TM is 2 to 10 times more effective than other methods, particularly with heavy drinking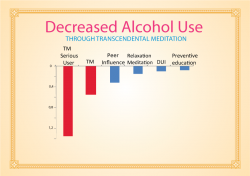 The comparative analysis revealed that other methods can actually help very little. The effect of Transcendental Meditation on alcohol consumption was 2 to 4 times larger than all other methods that were ever studied (p=.009). It becomes even more impressive when one looks at the effect of Transcendental Meditation on "serious users", the heavy drinkers, as was done in some studies. Here, the effect of TM is almost 10 times larger than with other methods. This confirms the general experience that the more dramatic the problem is, the greater the effect that transcending usually has.Ref.Alcoholism Treatment Quarterly 11: 13–87, 1994 
The longer one practices TM, the less the need to drink becomes.
The longer TM, the less people drink
As for tobacco and drugs addictions, several studies into alcohol addiction, have confirmed the general experience of many TM practitioners, that the longer one practices the TM technique, the less one feels the need to drink (heavely).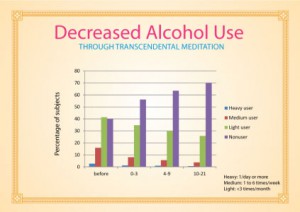 This is clearly illustrated by a large-scale study with 1,862 TM practitioners, conducted by scientists at the Harvard Medical School. (Click on the graph to enlarge it). The total number of "hard liquor" users is halved after 10 months. But if we look in more detail, we see that the number "light" users" is decreasing by 30% but that the number of "heavy users" drops by almost 80% (from 19% before starting TM to 4% after 10 months).  Again the effect is the strongest for those who need it most.Ref.Drug abuse: Proceedings of the International Conference, Philadelphia: 1972, pp. 369-376
Note: This was not a study where subjects were learning TM with the intention to reduce their consumption of alcohol. The researchers were just looking at the spontaneous behaviour after a period of TM practice with 1800 TM practitioners. If one really has the intention to stop drinking alcohol the effect is usually much stronger.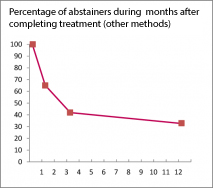 The increasing effect which comes with longer TM practice, is in sharp contrast to most other methods. The earlier addiction comparison shows that, of all those who have successfully completed their treatment with other methods than TM, after one month 35% are drinking again (from 100% abstainers to 65% after one month), and after 3 months, almost 60% have relapsed (42% abstainers). This shows how difficult it is to treat alcoholism on a superficial level.
To see more studies that confirm these results, see Research Alcohol Addictions. It is very interesting to know that in several of these studies, reduction of alcohol use was not the primary target of research, but was just found as a side-effect while other changes were investigated, like reduced depression or anxiety.
For more information on how and why the Transcendental Meditation technique is so effective for alcohol addictions, see: Doctors answering questions: TM and alcohol addictions
How can a simple technique do so much?
600 studies confirm the effect of TM with: