Transcend…and relationships improve spontaneously
Transcending is a direct experience of the reality that we are all connected to each other
Transcending, in essence, is an experience of the universal source of everyone's consciousness, the reality in which everyone and everything is connected to each other – see transcending = highest human experience. Even though our awareness may caught up with the superficial, diverse and rapidly changing aspects of existence, we can experience something of this deeper reality in our daily lives, as love. Love is a feeling of being connected to someone else even though there is no tangible connection between you and that other person.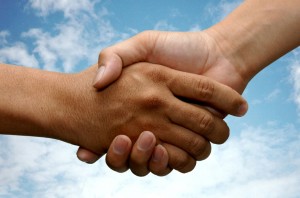 When we transcend, that feeling of being connected increases and creates a foundation for spontaneous improvements in all types of relationships. As our perspective becomes broader, we tend not to make mountains out of so many molehills.
Of course, stress too plays an important role in our relationships with others. Transcending can dissolve our deep stresses which can give rise to strained behaviours that undermine relationships. Increasing happiness and calm can also has a strong positive effect on our relationships.
Numerous scientific studies have confirmed the significant positive effect of the TM practice on both our personal and professional relationships – see Research tab.
How can a simple technique do so much?
600 studies confirm the effect of TM with: