Long-Term Decrease of Depression in Government Personnel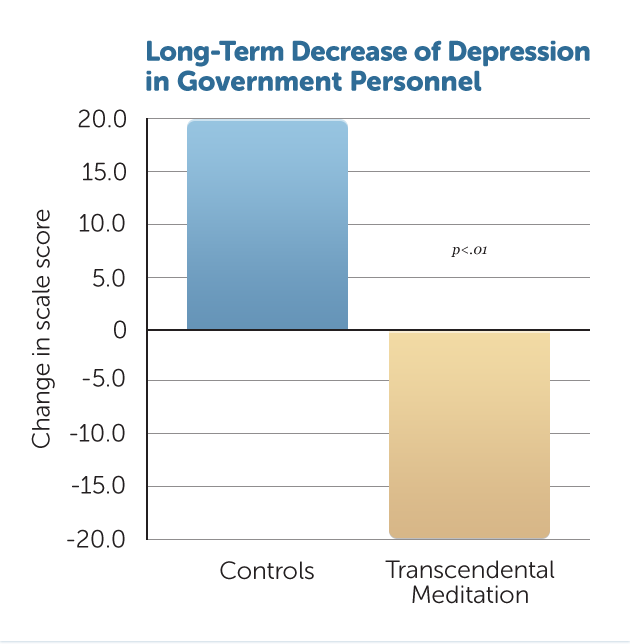 Long-term measurement of government employees who learned the Transcendental Meditation Programme found that after three years they continued to show significant reduction in depression, in contrast to control employees who had participated in an educational stress-management programme.Ref.Anxiety, Stress and Coping: An International Journal 10: 341–350, 1997
Decrease in depression among employees in high-security government project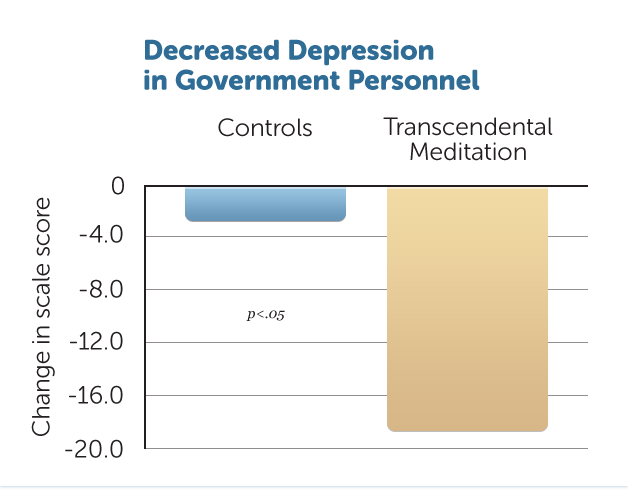 Highly stressed employees of a high-security government agency displayed decreased depression after learning the Transcendental Meditation Programme, in comparison to control employees who participated in a stress-management education programme.Ref.Anxiety, Stress and Coping: An International Journal 10: 341–350, 1997
Decreased Depression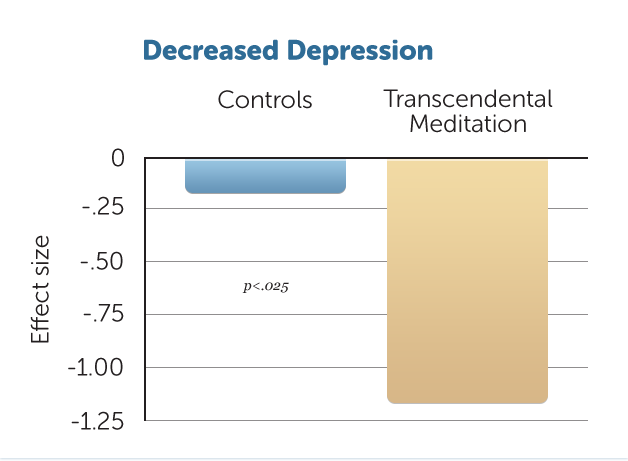 Patients suffering from post-traumatic stress problems who learned the Transcendental Meditation Programme showed significant reduction in depression after four months, in contrast to others who were randomly assigned to receive psychotherapy.Ref.Journal of Counseling and Development 64: 212–215, 1985
.
Reduced depression among German students
A group of 99 German students was divided into 3 groups, a TM group, an Autogenic Training (AT) group and a control group. They were tested before instruction in the TM technique, and afterwards. After 7 to 8 weeks the TM group showed a significant reduction in depression (p<.01), as opposed to the AT group, that showed no change, and the control group, that showed a slight increase. After 16 weeks the cumulated reduction in depression was even greater (p<.01) compared to both control groups.
Improvements occurred also for anxiety (p<.0005), emotional instability (p<.05) and fear (p<.005).Ref.Scientific Research on TM, Collected Papers vol 3, 273, pp. 2049-2053
Reduced depressions and insomnia among TM practitioners in Italy
A study among 107 TM practitioners that had practiced the technique regularly for at least 2 years showed significantly fewer cases of depression (p<.001) and insomnia (p<.05) in comparison to the control group.Ref.Scientific Research on TM, Collected Papers: Vol 3, 239 pp.1830-1845
Reduced depression among patients in India
75 Indian patients with health problems for which regular medical treatment offered no help (33 different problems) were taught the Transcendental Meditation technique, and 67 of them continued to regularly practice the technique. In the long term, 61 out of 67 patients showed good results, a significant improvement or full disappearance of the problem, and 24 patients even had very good results, a very fast, dramatic or unexpected full cure. Out of the 5 patients suffering from depression, all 5 had very good results, 4 in the short term, and the 5th in the slightly longer term.Ref. Scientific Research on TM: Collected Papers vol 3, 239, pp. 1826-1829
How can a simple technique do so much?
600 studies confirm the effect of TM with: