Transcending…and intelligence growth
TM research challenges long-held views on intelligence growth
For many years, scientists and psychologists believed that IQ (intelligence quotient) was a fixed element and mainly determined by genetics. It was also believed the brain, which changes a lot during the formative years of childhood, did not change in adulthood. In addition, there was widely held view that the IQ we have in our late teens is the IQ that we are stuck with for the rest of our lives. However, that view has been increasingly challenged in recent years. 
Scientific research on TM certainly does not support that old perspective. Research shows TM's remarkable effects on the brain. IQ turns out to be closely correlated to how efficiently our brain is able to function as one whole, which can be measured through EEG coherence. While it may have been thought that there was no effective method to increase overall EEG coherence, research shows that this is exactly the effect that Transcending has on the brain. (see full brain development – how TM works). The result: IQ can increase, even in adults.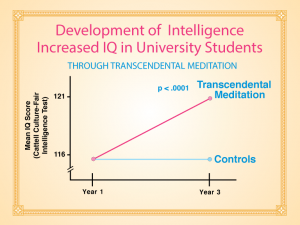 This study demonstrates that, in a control group of university students, IQ did not increase, as  expected but, in the group that learnt TM, a significant increase occurred. The study had a p-value of less than 0.0001, which is 500 times better than the general standard for research. (what is a p-value?)Ref.Personality and Individual Differences 12: 1105–1116, 1991
Several studies have confirmed the effect of TM on intelligence. Click on the Research tab for other studies.
How can a simple technique do so much?
600 studies confirm the effect of TM with: