Health insurers could make major savings by supporting people who want to stay healthy and heal themselves
For over 40 years, hundreds of studies have shown that TM is particularly effective in improving health and preventing diseases. The TM research is really just the scientific evidence of the strength of our own mind and body in healing itself. Transcending simply activates this inner healing power.
Health insurers and, ultimately, the taxpayer in the case of public health care, could make major savings if they would financially support those who want to learn how to keep themselves healthy, rather than just paying their sickness bills. Generally speaking, prevention is always much cheaper than cure.
Yet, in spite of all the scientific evidence, a TM course is still not reimbursed by Irish Health Insurance companies. This seems extraordinary given the horrendous amounts of money expended on servicing sickness and the strain that this places on both State, insurance company and individual finances. Nowadays, public policy is supposed to be evidence-based. There is a clear evidence-base to support the beneficial effects of Transcendental Meditation, but to-date this has not translated into public policy or insurance company decisions. 
We, as a non-for-profit organisation (MIU (Irl) Ltd a registered education charitable company with the Irish Revenue Commissioners), can only offer this programme that we know works and hope that eventually, people who take the course and benefit from it, will succeed in convincing the health insurance companies and the Government that it is in their own interest to support it.
In the meantime, we have found a number of private sponsors who can support people in financial need. For more information on the TM-course, course contributions and sponsorships, go to TM course.
Scientific research: prevention is much cheaper than the cure
Here are some of the most impressive studies demonstrating how much money could be saved.
A large-scale study in Canada, linked 1400 TM practitioners to 1400 control individuals of the same age and risk category. The study followed the health expenses of both groups over 14 years, 9 years before the TM practitioners started with TM, and the next 5 years. Before they started with TM, their expenses were slightly higher than those of the control group, but, as soon as they learnt the TM technique, their expenses began to decline. After 5 years, their expenses were 50% lower. For the older TM practitioners (older than 65 years), which is generally the most expensive group for the health care system, the expenses were almost 70% lower.
Another large-scale study in the U.S., where 5 years of health statistics of 2000 TM practitioners were compared with the standard, came to a similar conclusion – a 50% decrease in hospital admissions for the younger group and a 70% decrease for the TM practitioners who were more than 40 years old.
The more detailed statistics showed a significant lower hospital admission rate for all disease categories except childbirth, including a 60% reduction in cancer and a 87% reduction in heart-disease.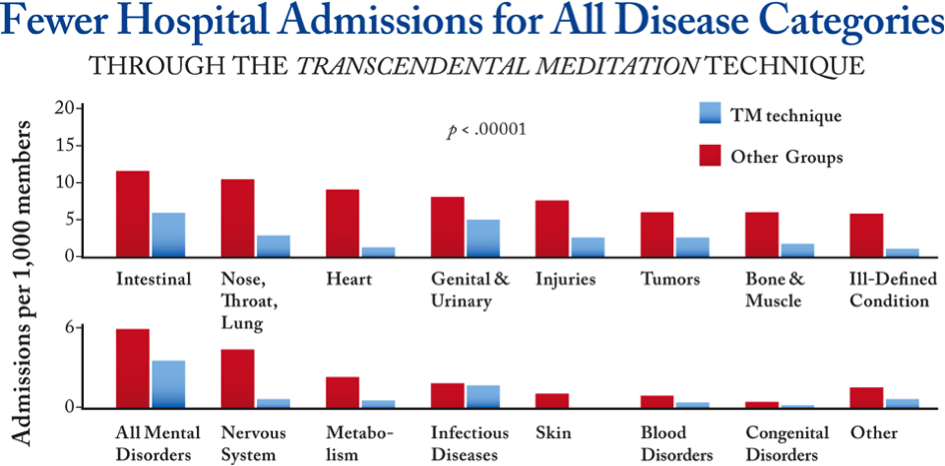 However, possibly the most impressive studies about TM are the studies about the cardiovascular diseases in collaboration with the National Institutes of Health, the health research arm of the US Government. During the last 20 years, the NIH have spent more than $ 25 million US specifically on research on the effects of TM on blood pressure, diabetes, arteriosclerosis and heart disease. The conclusions from have clearly demonstrated significant, positive results. In areas like hypertension, TM has been shown to have the same or even better results than medication but with less expense and without the side effects.
A randomized controlled study of 5 years with 200 heart patients found out that, among the 100 TM practitioners, there were 48% fewer cases of heart attack, stroke or death, a result not seen before with a purely mental technique.  This was a study with existing heart patients who only learnt about TM when the problems had already occurred. Cardiovascular diseases are a major expense for national medical systems.
According to the American Heart Association (AHA), the Transcendental Meditation technique is the only "meditation" practice that has been shown to lower blood pressure. According to the AHARef.Beyond Medications and Diet: Alternative Approaches to Lowering Blood Pressure. A Scientific Statement from the American Heart Association. Brook RD et al. Hypertension, 61:00, 2013. "Because of many negative studies or mixed results and a paucity of available trials, all other meditation techniques, including Mindfulness, received a 'Class III, no benefit, Level of Evidence C' recommendation. Thus, other "meditation" techniques are not recommended in clinical practice to lower BP at this time."
The AHA has also reported the finding that lower blood pressure, through Transcendental Meditation practice, is associated with substantially reduced rates of death, heart attack and stroke.
The AHA scientific statement concludes that alternative treatments that include the Transcendental Meditation technique are recommended for consideration by physicians in treatment plans for all individuals with blood pressure > 120/80 mm Hg.